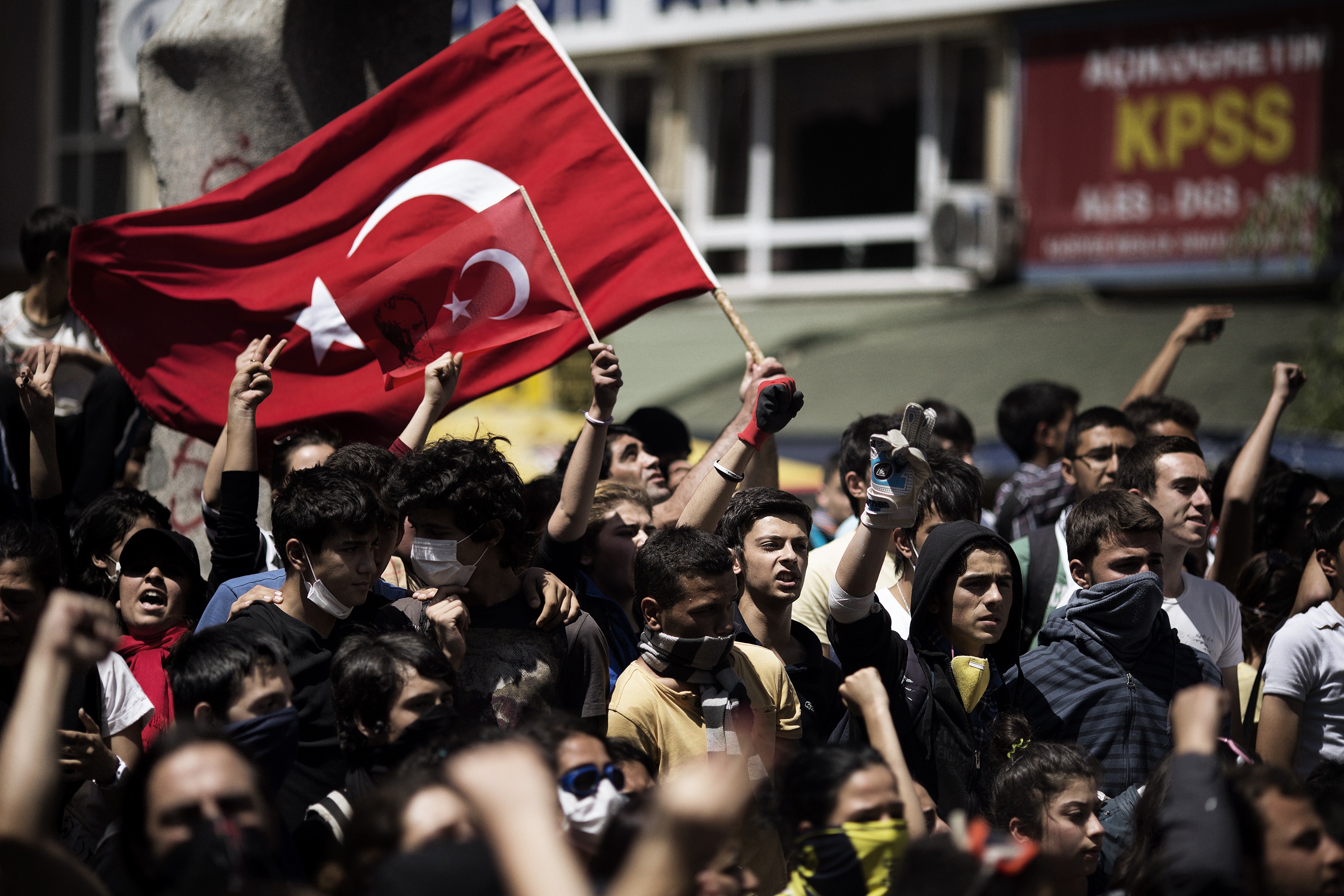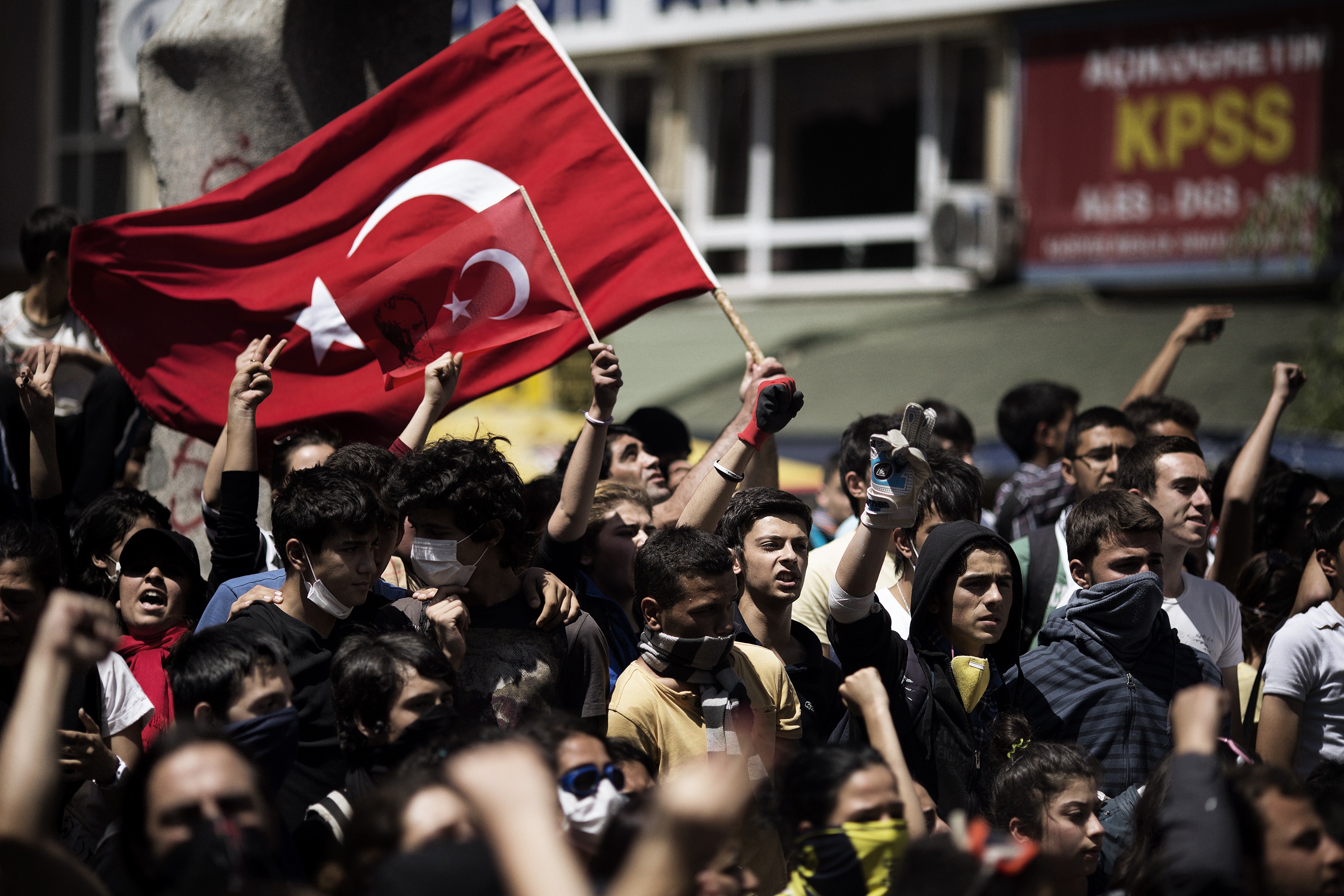 (AFP) – Following is a timeline of nationwide protests in Turkey which entered their fifth day on Tuesday — the sharpest outburst of anger against Prime Minister Recep Tayyip Erdogan and his Islamic-leaning ruling Justice and Development Party (AKP) since coming to power in 2002.
– May 28: A peaceful local protest begins against plans to redevelop Gezi Park, near Taksim Square in Istanbul.
– May 31: After three days, the rally erupts into violence when riot police fire tear gas to clear hundreds of demonstrators, injuring at least a dozen people.
– June 1: Protesters and riot police clash for a second day in Istanbul. Police fire tear gas at demonstrators who hurl rocks and bottles.
The unrest spreads to other Turkish cities. Amnesty International says more than 100 protesters are injured in clashes.
Erdogan acknowledges "some mistakes" in the police response. He withdraws police from Taksim Square but remains defiant over the park plan.
Thousands of protesters celebrate the withdrawal, chanting "Government, resign!" and "Istanbul is ours, Taksim is ours!"
– June 2: Protesters try to march on the prime minister's office in Ankara and Istanbul. Police fire tear gas and water cannons to disperse them.
Rights groups denounce police violence, with Amnesty International saying some protesters have been blinded by tear gas.
Interior Minister Muammer Guler says 58 citizens and 115 police officers have been injured across the country and more than 1,700 people arrested in 67 cities nationwide. Rights groups put the figure higher, with more than 1,000 injured in Istanbul and 700 in Ankara.
Erdogan remains defiant, calling protestors "vandals" and vowing to "stand firm" on his reforms.
He also lashes out at the social messaging service Twitter used by many protesters, branding it a "troublemaker".
– June 3: President Abdullah Gul urges calm and tells protestors their message has been "received".
A medics' union says a man was killed when a car ploughed into protestors in Istanbul a day earlier.
Erdogan flies to Rabat at the start of a three-day tour of North Africa.
The Istanbul stock exchange closes 10 percent lower and the Turkish lira falls against the euro and the dollar.
– June 4: Police and protesters clash in Istanbul and Ankara in the early hours.
The reported death toll rises to two with officials in the southern city of Antakya saying that Abdullah Comert, 22, died at a protest on Monday.
A major Turkish trade union confederation, KESK, backs the protests, launching a two-day strike and condemning "state terror" in the police crackdown.
A UN human rights spokeswoman presses Turkey to conduct an independent probe on its security forces' treatment of the protesters.
Turkish Deputy Prime Minister Bulent Arinc apologises to those injured in clashes with police and calls on protestors to end their actions.
He gives a government toll of 244 police officers and 64 protestors injured.