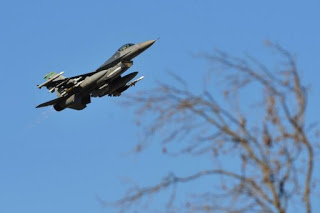 By Nourhan El-Sebahy
The US completed the delivery of the F-16 aircrafts and Apache gunship to Egypt, according to a statement from the US Embassy in Cairo.
US Secretary of the Air Force Deborah Lee James met Minister of Defence Sedki Sobhi and other officials during a visit to Egypt, where they discussed the completion of the delivery of the F-16 fighter jets and the mutual cooperation between both countries' air forces to fight terrorism.
The US had already delivered eight F-16 Block II "Fighting Falcons" to Egypt in July and four more on 29 October, to bring them to a total of 12 new F-16s.  These jets are now part of Egypt's Air Force fleet and considered part of the military cooperation between both countries.
For decades, relations between Egypt and the US have been grounded in mutual cooperation that aims to fight terrorism in the region and re-establish regional stability.
The US decided to continue its aid to Egypt in March 2015 when it declared that it would be sending the remaining 12 fighters before the end of the year.
It is widely known that since the 1979 Egyptian-Israeli Peace Treaty, Egypt is considered to be the second largest recipient of US military and economic aid after Israel.