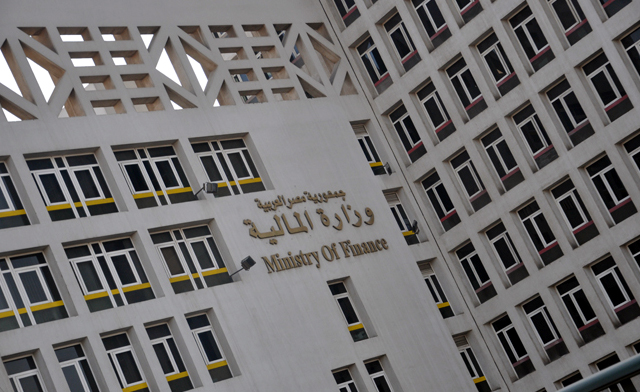 Daily News Egypt acquired the final version of the state budget draft for the fiscal year (FY) 2016/2017 according to the Ministry of Finance's estimates.
The total general expenditures of the budget amount to EGP 949.6bn and revenue amounts to EGP 635.3bn with a cash deficit of EGP 314.3bn, while the total deficit amounts to EGP 323bn, an equivalent of 9.9% of GDP.
The size of the GDP by the end of the next FY is estimated at EGP 3.2tn and the targeted growth rate is up to 5.5%.
Government sources said the allocation of wages in the draft budget amounts to about EGP 229.4bn, with a growth rate of 5% compared to the current FY 2015/2016, marking an increase of EGP 11.4bn.
The interest allocations during the next FY register 32% of the public expenditure. Allocations of subsidies, grants, and social benefits declined by 10% compared to the current FY to a record EGP 209.3bn.
The sources attributed the decline to the government's will to restructure the subsidy programme of petroleum products in light of the announced strategy, in addition to a decline in oil prices ($40 per barrel).
Investment in the next FY has been boosted to EGP 108bn, with an additional EGP33bn to the EGP 125m requested by the Minister of Planning.
On the item of revenue, sources said the total revenue amounts to EGP 635.2bn, marking a growth rate of 2% compared to the current FY.
Estimated tax revenue amounts to EGP 444.4bn, with a growth rate of 5% compared to the current FY, which amounted to EGP 422bn.
The sources added that grants are fixed items in the budget and no changes were made as the amount remains at EGP 2.2bn.
"The Ministry of Finance estimates a decline of other revenues compared to the current budget , due to a lack of receipts from services, reaching EGP 188.8bn, with a decrease of about EGP 9bn, compared to EGP 197.6 in the current FY, marking a decline rate of 4.9%," the sources said.
The sources pointed out that Minister of Finance Hany Kadry Dimian met a team preparing the draft of the state budget to agree on the final draft before it is sent to the cabinet for discussion