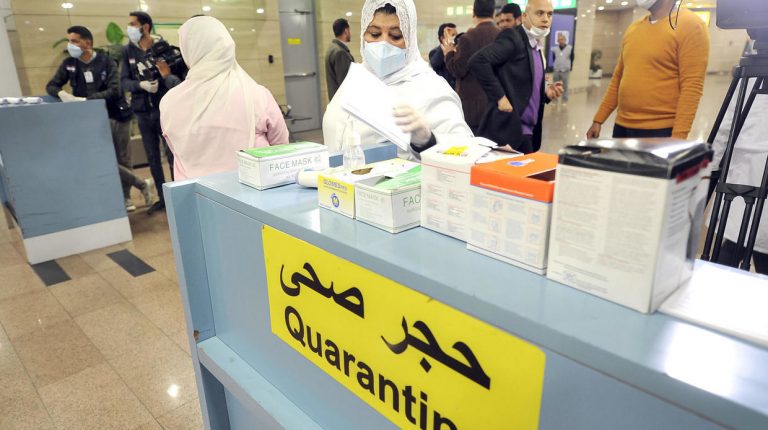 Egypt's Prime Minister Mostafa Madbouly followed up on the government's precautionary and preventive measures to deal with COVID-19 on Wednesday. He stressed that Egypt deal in full transparency with the situation, as it has no interest in hiding information.
During the cabinet's weekly meeting, Madbouly decided to prohibit the entry of Qataris and other arrivals from Qatar, even if they carry a valid residence in Egypt. 
These measures will be enforced starting Friday 6 March, out of the reciprocity principle.
Qatar and Kuwait have taken similar measures against Egyptian nationals in order to contain the spread of COVID-19. 
Doha particularly has prohibited entry for travelers who hold Egyptian nationality, and those arriving through intermediate points, even if they carry a valid residence in the State of Qatar. However, Kuwait banned Egyptian teachers working there from returning back to Kuwait after school holiday. 
The two gulf countries are the only states to take such measures against Egypt. Confirmed cases of infection in Kuwait reached 56, while Doha reported eight cases. All these cases in the two countries were visiting Iran and no one of them visited Egypt or was in contact with Egyptian nationals recently. 
He added that the government is implementing the standards announced by the World Health Organization (WHO) in this regard, and there is full coordination with the organisation in the procedures to confront this epidemic. 
The total number of COVID-19 confirmed cases reached 94,225 globally, while 51,026 people of those infected have recovered. Deaths owing to the epidemic have so far reached 3,214 people. 
The main hotspots of the pandemic as of mid-Wednesday are: South Korea by 5,621 cases, Iran by 2,922 cases, and Italy by 2,502 cases.
Egypt's Ministry of Health announced on Wednesday that 1,832 suspected cases were checked for COVID-19 in Egypt since January up until Tuesday, and most of them showed negative results, and only two cases of foreigners were found positive. 
One of the two suspected cases has left the hospital after a 14-days quarantine after their medical tests came back negative several times.  
The other case, announced on Sunday, was a foreigner who was also placed in quarantine. All people communicating with them were checked and is now receiving the needed medical treatment.